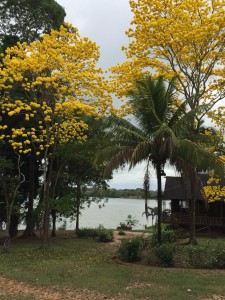 Memory is an amazing function of the human brain. Its capacity to enrich life abounds. Tragically, in a fallen world, the memory of past trauma haunts and hurts survivors as lasting evidence of the enemy's aim to steal, kill, and destroy. Yet the redemption and renewal of the mind in the New Creation opens the door to new memories and healing from past trauma. Research indicates that new pathways in the brain connected to new behaviors require hundreds of repetitions. One leader shared at our missionary retreat in January that doing so in the context of play drastically reduces the number of repetitions required to take on these positive changes. Simply put, the natural play of children reminds us as older children that play plays a critical role in healing and the renewal of our minds. We already have some very special playful memories to share with you from the first two months of 2019!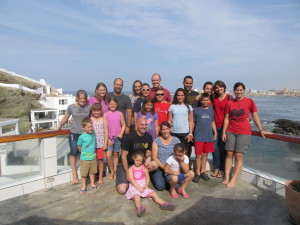 At our Kids Alive Peru Missionary Retreat (missionary families pictured here) in early January, Dr. Ray Casey led the adults through a powerful experience of understanding of the depth of healing possible for human beings transformed through healthy relationships, transition, and emotional integrity. A service team from Great Oaks Community Church in Illinois came to serve the missionary children with memories from the week that will remain with them for a lifetime. [Great Oaks has been a steady partner for KA Peru in our time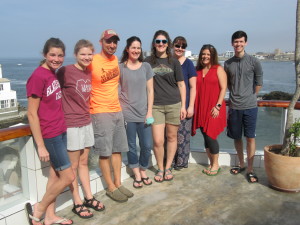 here. The impact of their involvement within their own student ministry is evident in a series of podcasts that reference various trips to Peru, including this episode about the missionary retreat: https://goccstumin.sermon.net/main/main/21319911].  A worship leader, Kirsten Moran, came from from Evergreen Bible Church in Washington state. She provided an ongoing framework of worship for all that transpired. This retreat remains a tremendous gift for us all!
Dan Anderson (KA Peru Country Director) and Dr. Ray Casey (speaker) with Mark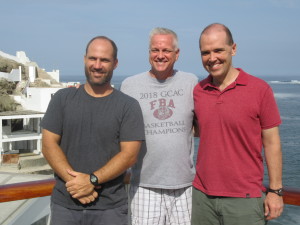 Afternoon boat excursion off the coast of Lima—notice the Penguins! (The white substance on the rocks is not snow, but a "by-product" of the scores of birds that sit on the rocks all day. The local people actual harvest the substance).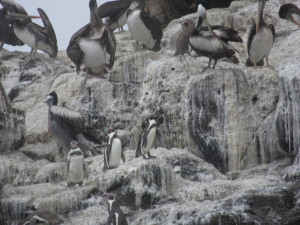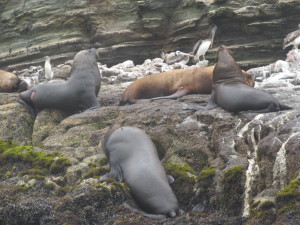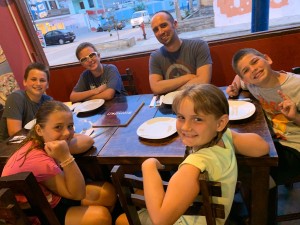 "Uncle" Dan Anderson taught Caleb and Jacob to surf. Caleb stood up on his first attempt!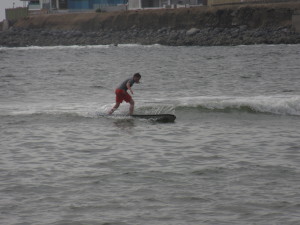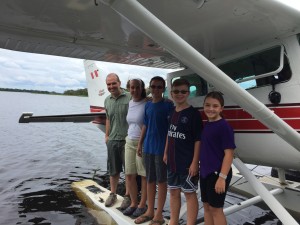 Thanks to a Christmas gift from Pepaw and Memaw Peiffer, our family took a flyover on a South American Mission Air float plane! We barely beat a storm back as we landed on the lake, and in our final approach the pilot treated us to two zero gravity dives. Our kids were out of their minds excited as a sandal and cell phone hung suspended in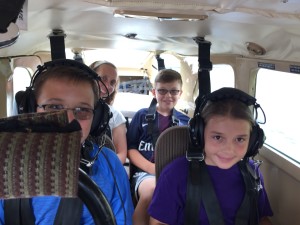 midair at zero gravity! The picture below is our Care Center base (brown spot to right: one of the nicer full size natural soccer fields in the area, because it is flat; grey rectangle is the sports court inside the walls of the base; our house is the shinier grey roof of the three houses that are arranged like stair steps, to the left of the court).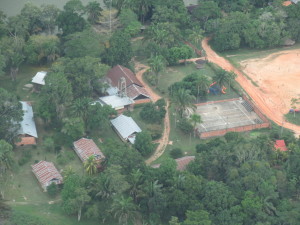 Caleb, Jacob, and Rachel started back at SAM Academy in January after a semester of online school due to our travels in late summer/early fall. With their new missionary friends living at our Care Center base, carpool rides have been enjoyable!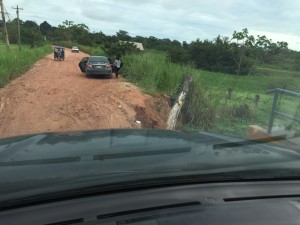 However, a lot of rides have been stressful due to the terrible condition of the road, especially where it was falling away right at the bridge! Thankfully, the bridge is now fixed, but then a lot of dirt was brought in to raise the road level where the water had risen and flooded the road. This mud turned to a slippery and sticky mess with heavy rains, causing some major traffic jams. For this reason with an event at school last Friday night, our kids went by boat!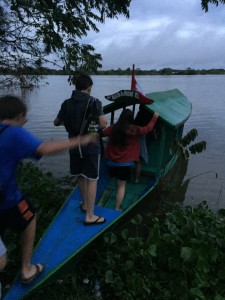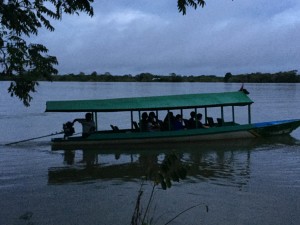 In February, our Care Center base in Pucallpa hosted a joint-staff retreat for our Peruvian staff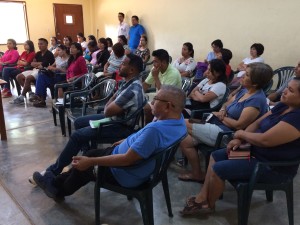 and those who serve at the Kids Alive Oasis School and Care Center in Lima. The fresh move of God's Spirit in unifying these two ministry sites from the coast to the jungle impacted the entire group, as evident in the closing song: We are the People of God (see video below). We all watched in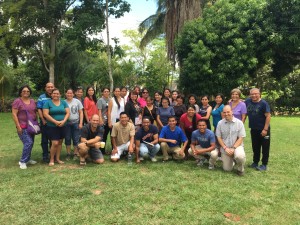 wonder during this three-day retreat. Mark provided teaching on the nature of trauma and victory as it relates to identity, family, endurance, calling, a sense of home/place, hope, and shalom.
IMG_4517 from Mark Cote on Vimeo.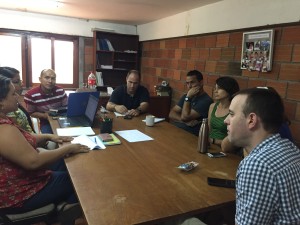 Strategic planning has continued for the development of the Pucallpa Care Center Ministry's outreach to families through justice and therapeutic care for those suffering from abuse. In February, programs began at the Care Center for the new year, including the launch of a new program called "FE" (Familias con Esperanza/Families with Hope). FE in Spanish means "Faith." The FE program contains multiple Christ-centered and holistic interventions to help families in our community stay together. Here is a picture of the first meeting of the FE program (meets Wed-Fri). Also pictu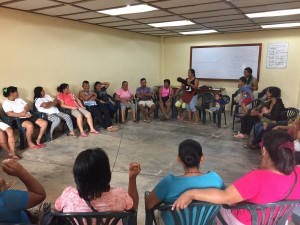 red is a special meeting on the future ministry impact of the Care Center with KA Peru's Country Director, Dan Anderson (far right corner), and Benjamin Downing (KAI Vice President, International Programs; near right corner). This particular meeting featured the empowerment of key Peruvian leaders to initiate and carry forward the development of these outreach programs.
We enjoyed some various times of connecting with Church Planting International missionaries, Steven and Christy Shepard and Tom and Barb Hopkins. Kristin also joined with them as a translator for a ladies event at a Shipibo community outside of Pucallpa.
Also, in February we enjoyed a visit with Andrew and Sara Coté's family all the way from Montana! They have been regular visitors and have connected deeply to the ministry here. Their presence this last visit and throughout our years here has greatly encouraged and helped us in our wellbeing and service to others. We enjoy playing with them!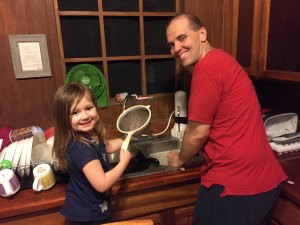 Time at the Orchard Children's Home
Kristin's new music class of younger students. Can you spot the Coté cousin who visited the class?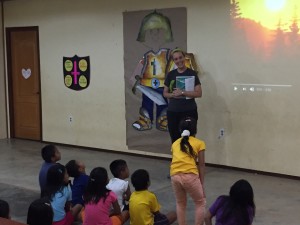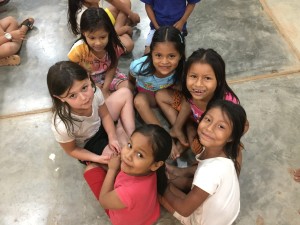 Some missionary friends took Andrew, Mark, Caleb, and Jacob on a boat ride with some missionary friends through a waterway that connects Lake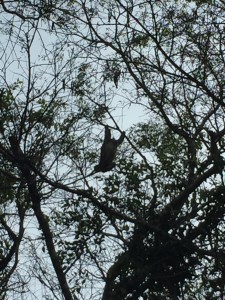 Cashibococha and Lake Yarinacocha that is passable when the water rises in the rainy season. We are passing by the tops of trees in the video. On a recent ride for our boat captain, the very poisonous South American Coral Snake entered the boat! Thankfully, the birds and turtles and sloths and dolphins we saw were not threatening. Notice the sloth handing from the tree! Those are nests hanging in the tree, for the brilliant Yellow-rumped Cacique.They make a water drop sound.
IMG_4598 from Mark Cote on Vimeo.
Watch this video carefully to see an Amazon Pink River Dolphin surface!
IMG_4610 from Mark Cote on Vimeo.
Jacob and Caleb have been working on some more videos. Enjoy one featuring a new skill: dice stacking.
On a recent Sunday afternoon, the boys watched the Carabao Cup Final between two of their favorite English Premier clubs, Chelsea and Manchester City. Here they are watching the PK shootout won by Man City. Meanwhile, Rachel relaxed with a facial.
Having fun in 2019,
Mark, Kristin, Caleb, Jacob, and Rachel Coté
Discipleship and Development, Kids Alive Peru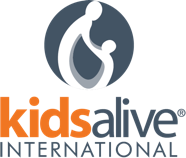 mark.cote@kidsalive.org
kristin.cote@kidsalive.org
Click here to partner with our family through support of Kids Alive, which sustains our missionary service. Click here for prayer requests related to our family and service. Click here to receive e-mail notifications of new posts on our Glordinary Goings blog.
Our mailing address:
Apartado 25
Pucallpa, Peru
P.S. Ever play Shadow soccer?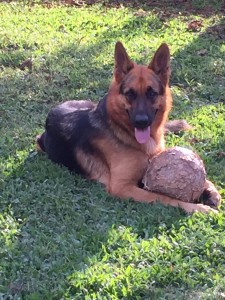 Comments
comments