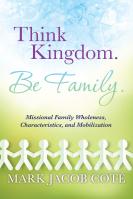 The Think Kingdom–Be Family Initiative (TKBF) is a biblically-grounded, research-based, and relationally-delivered discipleship approach to identify the elements that characterize missional families and to effectively mobilize them. Many families lack a corporate sense of mission. As a result, churches need to embrace the challenge of mobilizing families according to their collective identity and purpose in Christ and His mission. In the end, this qualitative research demonstrates that a new way of being and doing is possible through redemptive family wholeness, characteristics, and mobilization.
To order by phone, call Xulon Press Christian Bookstore at 866-909-BOOK (2665).
Click here to order online from xulonpress.com.
Ella Continuaba Respirando – Mark Cote
CFO 2014: Intimacy & Mission – Mark Cote
What One Life Can Do – Kristin's 2014 Article for SHARE Newsletter
Women's Retreat 2014 – Audio of Kristin's Update on Victoria's Fund
The Possible Word, Revisited – Audio of Mark's Christmas Eve Sermon 2013
The Hope of Dawn – Transcript of Mark's 2013 Peru Testimony Sermon
"Standing and Reaching for the Dawn" – Audio from Mark's teaching at a 2013 Men's Retreat
Dark Night and Bright Light – Mark's 2012 Essay
2012 Victoria's Little Lambs Fund Update
"Learn of Me" – Audio from Mark's teaching at a 2008 Men's Retreat
The Possible Word – Mark's 2007 Christmas Eve Sermon at Zion Church of Millersville during Kristin's pregnancy with Victoria