Favorite food and drink?
"Lomo Saltado, Kola Escocesa (local red soda), Chicha Morada (purple corn drink)."
A special memory so far?
"Singing 'Happy Birthday' in several languages with our friends at the language school whenever anyone has a birthday; being the daughter of a choir director and now going to choir practice only in Spanish – and being part of a fun alto section! On a serious note, walking by a little boy everyday for two months who seemed scared and was selling candy by himself on the pedestrian bridge and trying to show him that someone cares even though my vocabulary was limited."
What would you like to show your friends from the US?
"Our church, language school, our favorite little Peruvian restaurant 'La Brocheta,' the Plaza de Armas, the kids' school, the community pool, and our apartment."
Why are you grateful?
"That God has provided someone to help us whenever we have needed it, and that we have been able to help  people too. We are very grateful for the support of family and friends that keeps us going – we feel like there is a huge army behind us! I am also grateful for how the kids have been creative in their play and have endured some very long waits with us as we have trudged our way through different processes for paperwork, etc. And for Mark's encouragement to have confidence."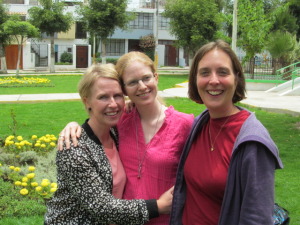 What is God teaching you?
"To trust in Him and not my own understanding, and I can do all things through Christ – even when that means failing a driver's test three times, using the wrong Spanish words when trying to order something, doing homework, trying to explain to a taxi driver where I want to go, conjugating verbs, and getting up to go to class each day."
What are you looking forward to?
"Getting settled into our house and service in Pucallpa."
Praise/Prayer request?
"Praise for all of the wonderful people we have met in Arequipa – a very special community in the language school and church. Please pray for our last month of studying and saying goodbye to friends, and the logistics for our move right after Easter."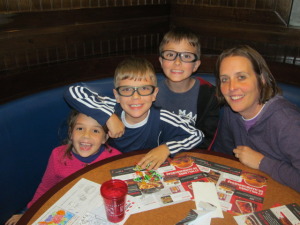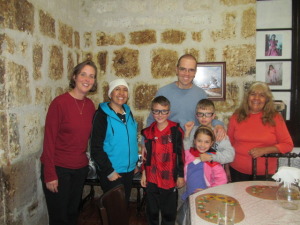 The above picture of Kristin and the children was at our family dinner celebration of Victoria's birthday.
[Click
here
 to receive e-mail notifications of new posts on our Glordinary Goings blog.]
Comments
comments