God's kindne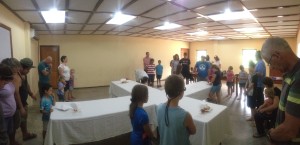 ss is so strong that it leads to repentance (Romans 2:4). Repentance brings change. In surveying the pastures of Kids Alive Peru, over and over again we encounter changed lives among the little lambs, who were previously lost, scattered, broken, and sick (Ezekiel 34:16). However, joining in His search for the lost sheep, bringing them back, binding them up, and strengthening them comes at a significant cost. Our Shepherd lays down His life for the sheep (10:15), then showing His followers His wounds overcome on His resurrected body, He then sends them as He Himself was sent by the Father (John 20:20-21).
We all have wounds overcome by His resurrection. The changed lives of children once abused, abandoned, and those at-risk of the same, testify to His kindness. The enemy hates testimonies of His kindness, because they silence His lies (Psalm 8:2). Unsurprisingly, the enemy's unkindness seeks to destroy anything that silences his deception. When we enter the commission to which Jesus sends us, we enter this conflict. At times the conflict leaves us afflicted, perplexed, persecuted, and struck down. But by His resurrection power, we are not  crushed, not despairing, not forsaken, and not destroyed (2 Corinthians 4:8-9). This is the "kind" of life we share together in the way of our Shepherd.
To begin 2018, all the missionaries from His staff with Kids Alive Peru gathered in one place for prayer, fellowship, teaching, and reflection during our annual missionary retreat. The Lord was present to strengthen our weaknesses from the battle, lifting our perspective once again to His victory by His grace in our lives and in the lives of those we serve. At the conclusion of the retreat, we observed the Lord's Breakfast together, followed by the Lord's Supper. (Our breakfast of fresh fish resembled that first Lord's Breakfast on the beach as recorded in John 21).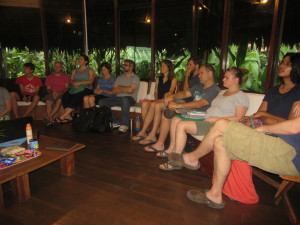 Mark Thomas (the son of Major W. Ian Thomas, founder of Torchbearers International), who recently retired from 40 years as the Director of the Torchbearers Centre in England, Capernwray Hall, joined us along with his wife, Linda. He provided wonder-full teaching throughout the retreat, leading us us by still waters to refresh our gratitude for our radically changed lives through salvation, repentance, and the exercise of our hearts in faithfulness.
Mark and Linda's son, Kyle, serves as Kids Alive's Regional Director for Pucallpa Ministries. Their daughter, Heather, who serves in ministry in Salt Lake City, Utah, facilitated a time during the retreat of meditating on Jesus' words from Matthew 11:28-30. She reminded us that Jesus called to those who were weary and burdened, inviting them to Himself. He also invited them to take up His yoke, a work instrument. How can a work instrument lead to rest? We only find rest because of the character of the One who calls us. It is His yoke/work. And she lifted our eyes once again to His kindness, since His yoke being "easy" can also be translated as "kind." Kindness characterizes our work when we our identity is in Him.
Kindness is not niceness. Kids Alive International's Vice-President for Latin America also attended the retreat with his family. He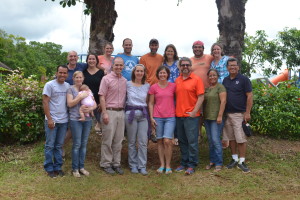 and his wife ministered to each couple (see picture of Kids Alive Peru missionary couples), and their prayer time with Kristin and me gave us further insight into our particular calling to minister kindness: Like a seed that has been husked and prepared for growth, may God plant us for pastures that flourish with lots of green. May the waves of His kindness crashing over who we are yield abundance for others, giving me (Mark) the courage to step out and take risks that can be scary but lead to kingdom success. May Kristin's unique way of weaving connections together continue to yield harmony in our home and blessing for others. In it all may our story continue to grow as a tree, with each knot being covered by more growth along the way. These insights they shared with us resonate deeply and challenge us in our return to Peru to keep hearing His voice and following Him in His "kind" of life.
Interestingly, I (Mark) have been reading through a book by Dan B. Allender about healing for victims of sexual abuse (Healing the Wounded Heart), since this pertains to so many of the kids in our programs and even caregivers in this culture. How does Allender begin part two of the book, which focuses on the "The Healing Path?" He begins with a chapter called, "The Power of Kindness." God's kindness is so strong that it can even bring healing to victims of indescribable abuse.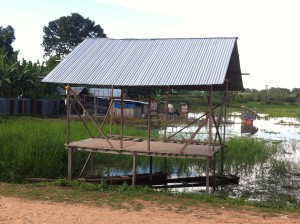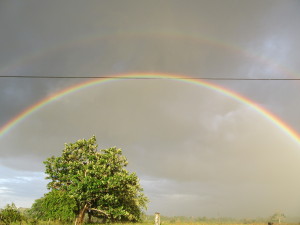 Here in the jungle, the rainy season has come once again. For those who build simple shelters in what seems like unusable land, the rainy season threatens with its rising waters. Whenever we visit families in our community, prayer requests from many focus on the problems of disease and discomfort brought about by the rainy season. Yet hope persists for our community in many ways.
Different seasons produce different fruits. Paul writes that the fruit of the Spirit consists of kindness. Though Peruvian school students are on summer vacation right now, Kids Alive's Pucallpa Care Center has resumed its ministry to children in our community. Notice the children in this video picking cherries from the tree during their snack break on the way to their next class.
IMG_3105 from Mark Cote on Vimeo.
Our heart's cry for kindness dominates our vision as we begin this second term. May we all live His "kind" of life. When we live this way, our hope increases. Allender observes that "the core war with kindness is the battle with hope." So many people in Peru and around the world live without hope. Yet God's kindness keeps changing lives by overcoming the wounds of death with resurrection power. See this video for a living testimony of changed lives, silencing the enemy by testifying to the goodness of our Shepherd's "kind" of life.
Psalm 23_Orchard from Mark Cote on Vimeo.
Kindly,
Mark, Kristin, Caleb, Jacob, and Rachel Coté
Director of Discipleship and Development, Kids Alive Peru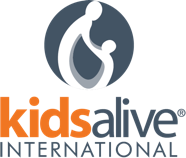 mark.cote@kidsalive.org
kristin.cote@kidsalive.org
www.kidsalive.org
www.kidsaliveperu.org
Click here to partner with our family through support of Kids Alive, which sustains our missionary service. Click here for prayer requests related to our family and service. Click here to receive e-mail notifications of new posts on our Glordinary Goings blog.
Our mailing address:
Apartado 25
Pucallpa, Peru
Comments
comments