When encouraging others to have a broader perspective, we might say, "Let's consider this from a 10,000 foot level." In such cases, the complexity and detail at ground-level can distract from seeing the big picture clearly. During our recent trip into the Peruvian Andes Mountains to the remote town of Andahuaylas, we literally flew on a smaller plane from an airport with an elevation of about 100 feet, and we landed at an airport outside of Andahuaylas at over 11,000 feet. At ground-level throughout our trip, we would once-again encounter first-hand the big perspective of the kingdom of God; and once again, children were at the center, called to His side.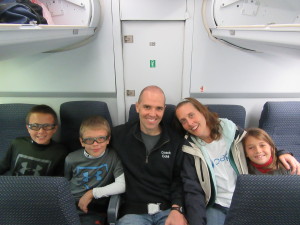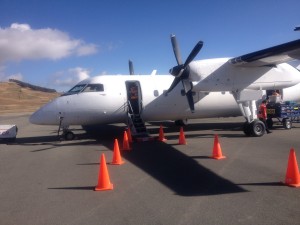 For five days, we tasted the fruit of the redemptive family that has formed at Kids Alive Peru's Friends of Peru Children's Home. Out of this home, the staff and children also reach out and open their gates for children in the community to come and play and learn along with this community. The views are breathtaking, and so is the altitude. We faced temperatures at night around 40 degrees (F) or a bit lower, with no indoor heat, and the altitude impacted, for a brief time, the health of a couple of people in our group. However, what filled our hearts and vision was the warmth of God's presence and joy pouring out from this place. For our family and the four interns with us, we took this perspective to heart.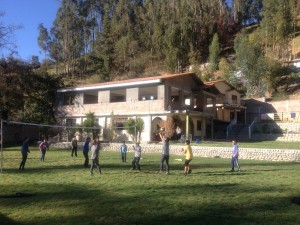 The children who have been rescued to be raised in this home all speak Quechua as their first language, and they also speak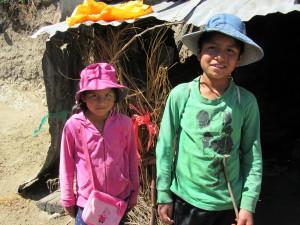 Spanish. Their stories include heartbreaking loss, abuse, and abandonment. Some of them have a parent or relative, but the rigors of Andean life and work make living with them very difficult. By God's grace, this family at the Friends of Peru home provides a place where the children are well-cared for physically, spiritually, and emotionally. They attend a local school locally.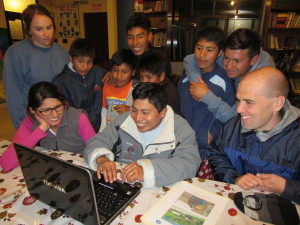 One night we watched a family "slide show," and we marveled at their remarkable work ethic on display through various photos of their participation in multiple projects around the property, including the current project which will open another house for more children on the property as well as a second-floor multi-purpose space for gatherings and a computer lab. As guests of the family, we felt very-well taken care of by the hospitality of the children and staff, who peacefully carry out their daily responsibilities.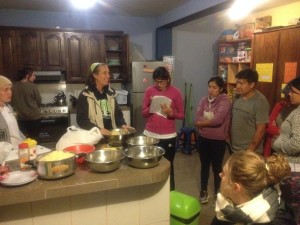 Another evening, Kristin held a pizza-making workshop for the staff, and all the children and our team enjoyed the yummy results. Mark also led two workshops for the staff on teaching the story of God to children and spiritual formation.
One of the most striking sounds of our time was the laughter of the children. They work hard, an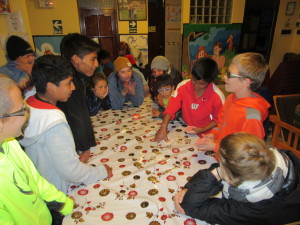 d they play hard. Our own children joined in and had a great experience playing with the children.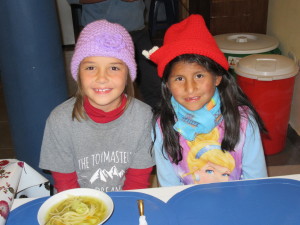 Now that we have experienced all five of the ministry sites in Kids Alive Peru, we testify to what we have seen in accordance to what Daniel to the king during the Babylonian exile: "You continued looking until a stone was cut out without hands, and it struck the statute on its feet of iron and clay and crushed them…the stone that struck the statue became a great mountain and filled the whole earth…the God of heaven will set up a kingdom which will neve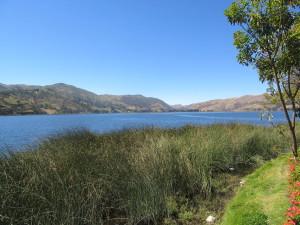 r be destroyed, and that kingdom will not be left for another people; it will crush and put an end to all these kingdoms, but it will itself endure forever. Inasmuch as you saw that a stone was cut out of the mountain without hands and that it crushed the iron, the bronze, the clay, the silver and the gold, the great God has made known to the king what will take place in the future; so the dream is true and its interpretation is trustworthy." (Daniel 2:34-35, 44-45).
Our summer, and our first-term here in Peru, has been packed full of such visions of the kingdom of God increasing on this earth. This is why our hope increases. However, the news and talk on the street in any given land contains despair and hopelessness. Unfortunately, this can even be true of the chatter among the crowds that pass through church buildings. Instead of continuing to look at the world's news, which is not good, let's continually turn aside to the headlines that do not register there, but highlight the news of the kingdom of heaven – which is always good!
We look forward to our return to spend some time watching this news with all of you, from your neighborhoods to ours, that our victorious King might receive the glory as we gather together to continue going together!
Enjoy a few more pictures of our time in the mountains, including Rachel eating cuy (guinea pig) for the first time, which is a very popular food in the Andes of Peru.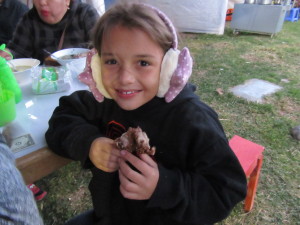 Grateful for such Good News,
Mark, Kristin, Caleb, Jacob, and Rachel Coté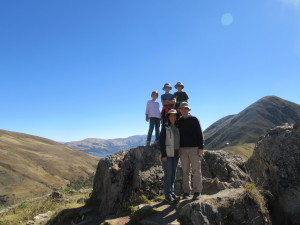 Director of Discipleship and Development, Kids Alive Peru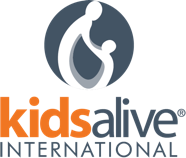 mark.cote@kidsalive.org
kristin.cote@kidsalive.org
www.kidsalive.org
www.kidsaliveperu.org
Click here to partner with our family through support of Kids Alive, which sustains our missionary service. Click here for prayer requests related to our family and service. Click here to receive e-mail notifications of new posts on our Glordinary Goings blog.
Our mailing address:
Apartado 25
Pucallpa, Peru
Comments
comments