For two months now we have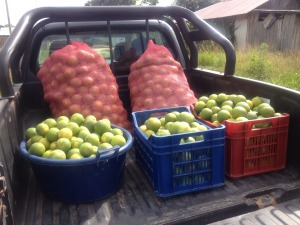 lived in our new home at Mission TEC, the name of the Kids Alive Care Center here in the community of San Jose, about a half hour outside of the city of Pucallpa, Peru. This has been a rewarding time of discovering different routines and seeing our roles begin to develop.
Each week is full of opportunities to support the many programs offered to several hundred at-risk children from our surrounding communities. There are also events and outreaches to the parents of the children, like a Mother's Day event hosted at TEC. Pictured above is our truck loaded up with about 1000 oranges that were distributed in bags to the mothers who attended. The oranges come from the orchard on the property of the new Kids Alive children's home, which is fittingly named, "The Orchard." It is only a few minutes away from the Mission TEC Care Center. The staff is nearly in place for this new home, and anticipation is growing for the arrival of about eight children for the first house opening on the site, with more homes in the plans. Apart from one government-sponsored orphanage in Pucallpa, this will be the first Christian children's home in Pucallpa.
Meanwhile, the daily and weekly ministries at Mission TEC continue. Our first impressions of our time here include the present faithfulness over time of the missionary team and Peruvian staff whose commitment and diligence speaks of their faith and hope in the mission of God. We are ever-mindful of the partners, churches, communities, and teams that are connected through prayer and support to the daily ministry in this place. There is genuine fruitfulness in this team being faithfully present and available to all the opportunities that God provides for blessing others. Truly, God is weaving together a beautifully redemptive fabric of His faithfulness in this place.
In addition to the multiple and varied responsibilities that come our way daily, particular opportunities for our service con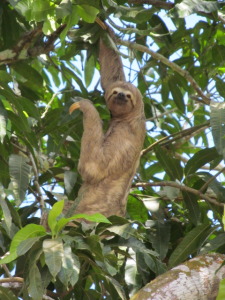 tinue to open before us, and we depend on God for the grace to make the most of each one – one at a time. Kristin continues to connect with people through her hospitality and kindness, receiving from them even as she shares her own heart and story. She also helps out with the Awana Bible clubs and is a constant support to our own children in their studies, which are in Spanish and often quite time-consuming. Mark will be leading a training session for the team at TEC on June 22, and during the first week in July he will lead multiple workshops for faculty, parents, house parents, and staff for the Kids Alive school, children's home, and care center in Lima. In addition, he continues to preach on a regular basis in our church. All of this is in Spanish, so the preparation and delivery, which were once in his comfort zone, are now far out of his comfort zone. He is thankful for the ongoing encouragement and support form others to help him develop his Spanish through these opportunities. Like the sloth pictured from a tree here at TEC, language learning sometimes seems very slow, but we praise God it has been steady! Other than the steadiness, there is nothing slothful about it!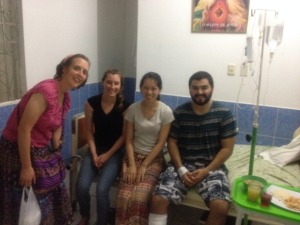 We have had a very meaningful time with the interns from Azusa Pacific University, who will be returning to the states in the coming week. One of the interns spent a few days in the local clinic with a leg infection, which provided a new setting for our Bible study and reflection time together. Kristin is pictured here with them in the clinic. Thankfully his leg is healing and he has returned to TEC. A couple more interns are now arriving that we will be serving for a little over a month. In addition, Mark will return from his week of teaching in Lima with a youth team that arrives from the states and will serve at TEC for a week. For the second half of June, we have the privilege of hosting Kristin's brother's family and her dad, who will spend time with us and further develop connections as a family to the people and places and ministries that are a part of our life here. Kristin's sister-in-law, Amanda, already has many friends and connections here through her previous trips to Peru. Our children are very much looking forward to this time with their two cousins, Aunt and Uncle, and Pepaw!
The obstacles we continue to navigate in this new season include language learning and adjustments to our new surroundings. However, our children continue to lead the way in setting the example of playfully overcoming challenges together. Recently, TEC hosted a one-day retreat for the youth from our youth clubs. Following their day of teaching and games, our children, along with their friends that live here, got their chance to run the obstacle course, which was the culminating activity of the retreat. Enjoy the pictures depicting their excitement and joy in overcoming obstacles together…and not just once, because they ran this course multiple times over a couple of days because they enjoyed it so much! May we all be encouraged to playfully overcome the challenges before us in our glordinary (God's glory in our ordinary) goings. [Thank you to Cristina Thomas for a few of these pictures].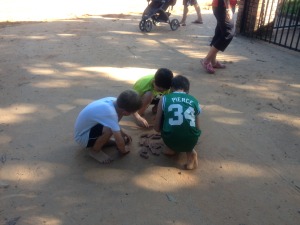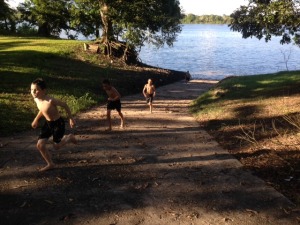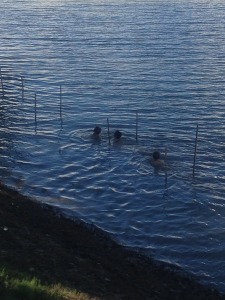 Here is a video of Caleb going across the ropes. To all of your questions about what might be in the water below, the answer is most likely, "yes!"
IMG 0355 from Mark Cote on Vimeo.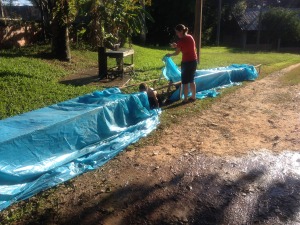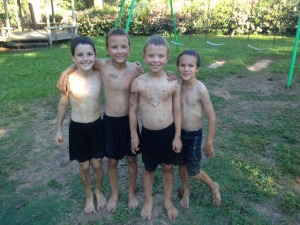 [Click
here
 to receive e-mail notifications of new posts on our Glordinary Goings blog.]
Comments
comments