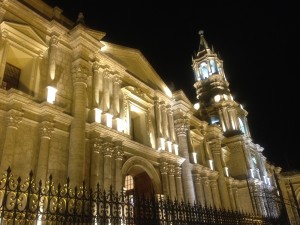 Our two-week assignment in Arequipa, Peru provided an opportunity to return to our first Peruvian home, where we lived for seven months after first moving to Peru in September of 2014. Our children's delight matched ours as we stayed in the same apartment, visited favorite spots, and re-connected with dear friends. God gave us some very meaningful opportunities to help the children we serve through this assignment.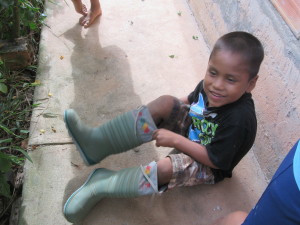 Some of you may remember a story from this past November, where an elementary-age Peruvian visitor from Arequipa tearfully gave up his favorite pair of green rain boots for a child here in San Jose. The child who later received these boots lives in the Orchard Children's home. Th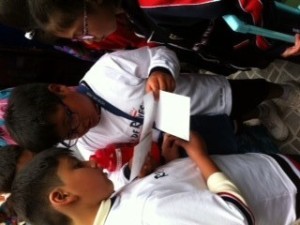 rilled to open his special gift, he quickly put his boots on with a big smile. While in Arequipa for two weeks in the middle of March, we reported back to our young visitor on the joy his gift brought to another child. We smiled as we watched this boy share the picture and story with his friends after school. His tearful sacrifice of thanksgiving stands as a reminder to us of our Father's joy in giving.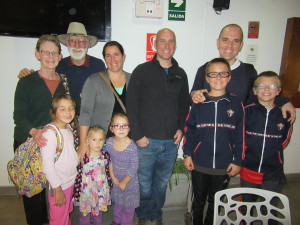 We really enjoyed our time with another Kids Alive missionary family preparing to serve in Lima. We also had several in-depth and delightful conversations with his parents. As retired missionaries still very actively serving in the mission of God, their experience and educational background enriched our reflections on current ministry opportunities for Kids Alive Peru.
One afternoon, we visited a children's home called Nueva Esperanza. Our discussion with the director provided mutual encouragement and further learning about effective practices in the work of rescuing and raising up abandoned and abused children.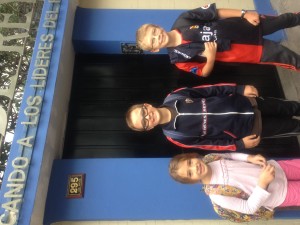 Our children once again attended Rey de Reyes, a Peruvian Christian school that they attended during our first stay in Arequipa. This school also sent a team of thirty people to serve with Kids Alive Pucallpa this past November. We were warmly welcomed and shared in very special fellowship throughout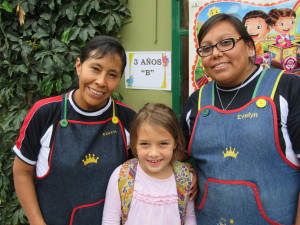 our two weeks.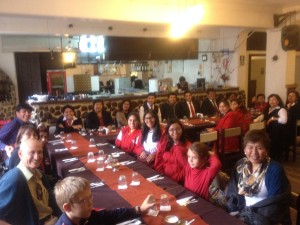 More than 20 members of the team that visited us attended a special luncheon in our honor next to the Plaza de Armas. Team members took turns standing and sharing their deepest appreciation for all that they learned and the lasting impact of their experience in Pucallpa. They eagerly listened to the update Mark shared on the ministries of KA Peru.
Several days later, we met with a group of individuals from this team who desired to be a part of our "Amigos de los Niños" program, which provides a way for Peruvian partners to support the programs of Kids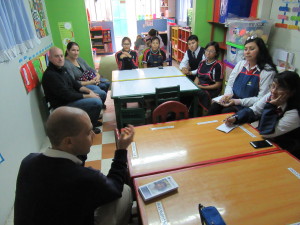 Alive Peru. Their enthusiasm and compassion for supporting the children in this way was noteworthy and very encouraging. They thanked us with all their hearts for serving "their" Peruvian children in a remote region, and for giving them an opportunity to play a part in caring for these precious children. During our time with this school community, multiple people also expressed their intentions to come and serve as volunteers with Kids Alive Pucallpa.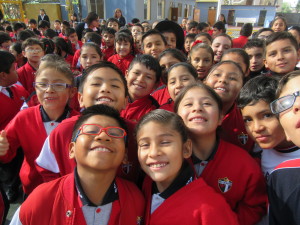 The day before we left, Rey de Reyes invited us to share at a special assembly with their elementary (more than 3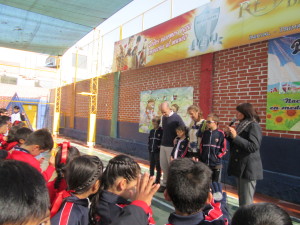 00 students) about the ministries of KA Peru. [In this photo they are looking at a picture of the children in our Pucallpa programs]. We greatly appreciate the way the students prayed for us to send us back to our work in Pucallpa [also pictured here].
A pharmacist friend in this city, who first heard about the ministry of Victoria's Fund two years ago, has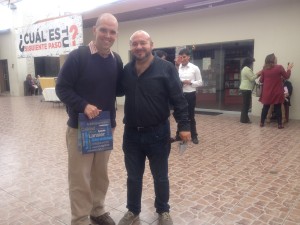 donated a two-year's supply of prescription eye drops that will help prevent one of the girls at our Mission TEC Care Center from losing her eyesight from childhood glaucoma.
Throughout these two weeks while the kids were immersed in Spanish at school (or with a Peruvian friend who tutored them in Spanish on the da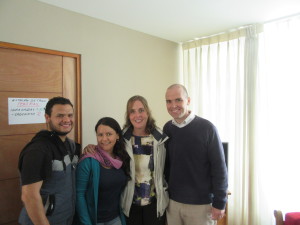 ys when school was cancelled because of no water), we received language training that was very thorough, personal, and diagnostic in the sense of strengthening weak areas and answering many questions that we have had, including many we did not know we had. The teachers at ABC Español are friends and co-laborers with us in how they have equipped us in the Spanish language and culture.
By God's gracious hand at work, we believe that this two-week assignment in Arequipa will continue to bless children in Peru in the seasons ahead!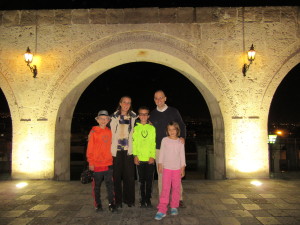 With thankfulness,
Mark, Kristin, Caleb, Jacob, and Rachel Coté
Missionaries of Discipleship and Development based in Pucallpa, Peru
www.kidsaliveperu.org [see our new post called "Provision in Pucallpa"]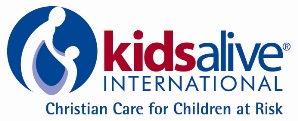 Click here to partner with our family through support of Kids Alive, which sustains our missionary service. Click here for prayer requests related to our family and service. Click here to receive e-mail notifications of new posts on our Glordinary Goings blog.
Our mailing address:
Apartado 25
Pucallpa, Peru
Comments
comments